The Procyon Minelayer is an excellent dedicated design. Not only is it relatively quick, and well armed for a Minelayer, it is also an excellent minesweeper, and anti-
Torpedo
ship. A Procyon Minelayer captain will often bravely make a fast pass through the middle of a battle laying out Mines as he goes. Any unwary opponent crossing his path will find their hulls blasted out from under them.
Battle at Procyon Statistics
Edit
Point Cost: 124 VP
Mass: 25,000
Max Thrust: 25,000
Max Speed: 19 km/h
True Speed Value: 5.277778
Manoeuvrability: Average
Max Angular Acceleration: 0.737174
Crew Size: 18
1 Captain
1 First Mate
1 Spotter
1 Helmsman
3 Engineers
3 Riggers
6 Gunners
Aggregate Hit Points: 1,980 HP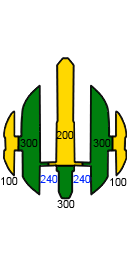 Firepower: Good (6 banks)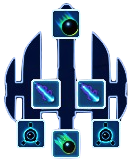 1 Heavy LaserBall Cannon


4 Medium Lancers


2 Mine Chutes (non-replaceable)


2 Medium LaserBall Cannons (non-replaceable)


4 Light Point-Defence Lancers
Battle Strategy
Edit
Counter-Tactics
Edit
Open Skirmish Names
Edit
PSR Eridani
PSR Laircon
PSR Canopus
PSR Naldera
PSR Barrier
PSR Sirius
PSR Trieste
PSR Canis
PSR Ursa
PSR Balisar
PSR Majoris
PSR Orionis
The Procyon Minelayer, along with the Pirate Weapon Barge, are the only ships to not appear in the campaign or in any of the historical skirmishes: only being found in open skirmishes (often times in large numbers).