Modified Content

This article is about modified content. Therefore, it does not reflect upon the standard game and is non-canon.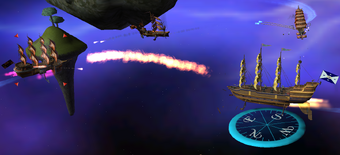 In Treasure Planet: Battle at Procyon, one can modify several aspects of the game. Modifications can include modifying existing aspects of the game, such as the ships, weapons and levels, or creating custom content, such as: custom skirmishes, custom weapons, custom ships, custom crew members etc.
Disclaimer: Ensure all files are backed up before modifying the game, incorrectly imputed data will cause the game to crash.
Installing Modifications
[
]
Before installing modifications, back up all files. This is very important in case something goes wrong. After all files are backed up, replace the required files or folders in the game with the modified files or folders. Usually, in addition to the modified 'World Objects' or 'World Folder', there will also be a modified 'Strings' folder, this must be consistent with the other modified folders for the game to work.
Some modified folders require one to merge them with the default folders instead of replacing them, always check to see whether this is the case before replacing the folders.
Required Software
[
]
Most files can be edited with Notepad (or TextEdit, if one is running the game on a Macintosh through Wine). However, a better alternative to Notepad is Notepad++, which has more options than the standard version of Notepad. Notepad++ with the hex editor plugin is also required for editing .mdb mesh files. GIMP with the .dds plugin is required for editing the .dds texture files, which one must do if they wish to retexture ships.